R E C I P E O F T H E M O N T H

Rose Petal Cordial

From Artisan Drinks by Lindy Wildsmith Jacquis Small Publishing rrp £25.00: special readers price £20.00 to include postage and packing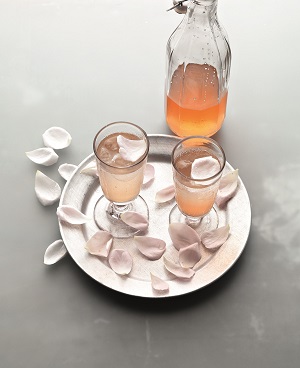 Try using garden rose petals to make cordial this summer instead or as well as elderflower. You can experiment with other edible flowers from your garden or from the countryside to see what works. Make just a small quantity – say, 1 litre (1 pint 15 fl oz) – while experimenting.
Makes 1 litre (1 pint 15 fl oz)
12 roses – must be home-grown and unsprayed
Juice and finely grated zest of 1 lemon
750 ml (1 pint 7 fl oz) cold water
500 g (1 lb 2 oz) granulated sugar
Juice of 1 orange
1 tsp citric acid
You will also need
Muslin cloth or jelly bag, scalded
4 x 250 ml (9 fl oz) or 2 x 500ml (17.5 fl oz) sterilized bottles with screwcaps
Strip the petals from the roses and place them with the finely grated lemon zest into a large deep bowl. Pour in the cold water, cover with a clean cloth, weighting the corners with clothes pegs to prevent the cloth from slipping into the liquid. Leave overnight.
The next day, suspend a muslin cloth or scalded jelly bag over a large saucepan and pour the liquid and petals into the bag. When the liquid stops dripping, discard the contents of the bag.
Strain the orange juice, and add with the citric acid and sugar to the pan. Warm on a low heat and cook gently to dissolve the sugar; stir and then simmer for a few more minutes. Pour through a sieve into a measuring jug.
Once cool, rinse out the sterile bottles with warm water and fill using a funnel, leaving a small gap of 2 cm (¾ in) between the top of the liquid and the top of the bottle. Screw the lids down securely.
Making & keeping: Make all summer long. Will last 3 to 6 months if kept in the fridge. Otherwise use straight away or pasteurize.