Feedback
A few examples of what our clients have to say - more examples can be seen on our facebook page.
"Thank you so much to Franco and to you for such an enjoyable day today You both made it so enjoyable that I can't wait to start cooking again - though following the amount of food we consumed I think I may have to wait a day or so." Jan Budden

---
"Perfect timing to receive your newsletter! I'm off on a self catering holiday in the south of France tomorrow so armed with your recipe I will be looking out for some lovely artichokes." Marion Wills, June 2013
---
"Myself and Philippa wanted to say a big thank you to you, Alex and all at the Chef's room for making yesterday such a great day. We thoroughly enjoyed our day and have taken so much inspiration and enthusiasm away with us. Although we are still very full!
We hope to see you again soon
All the very Best to you."
Donna Owen
---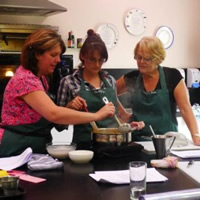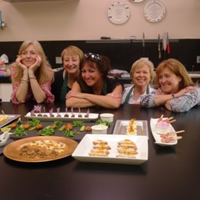 This is a quote from coverage generated in the Netherlands for Culy.nl by Lisolotte Legebeke, Editor or www.Culy.nl
"The Chef's Room in Blaenavon was this year awarded the title "Best cookery school in Wales" and is a very nice addition to your visit to Wales. "Culy" attended an afternoon tea workshop with Lindy Wildsmith Cook adn Food Writer Feedback and made the best scones ever, the traditional bara brith which is a loaf cum cake with raisins and candied fruit spread with a thick layer of butter, Welsh Cakes, soda bread and potted crab, while enjoying a glass of bubbly.
The workshop was extremely valuable and especially fun to do. Afterwards we enjoyed all the delicacies we had baked."
---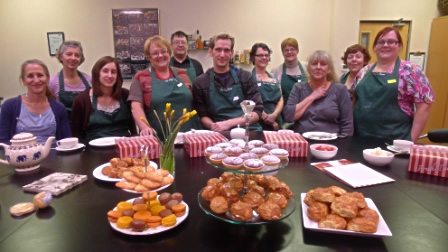 "Many thanks for organising another terrific course. Anyone with an interest in cooking should attend one of Franco's courses. Where else could one get so close to one of our great chefs, watch him at work, ask any question and prepare simply wonderful food? And all at such a bargain price. Ten out of ten."
Des Palmer
---
"We all had a great time at the chef's room and everyone has been busy practising at home cooking lots of lovely foods. Marie and Sam made scones with the young people last night so all our new skills are being put to good use, thank you."
Sarah James, Communities First
---
French Farm House Cooking
"Had a great day saturday with Lindy. Have thrown away the tin opener and readymade pastry. Kitchen beware.!!!!!!!!!"
Margaret Evans