LINDY WILDSMITH ON A PLATE
Acclaimed food writer, cook, teacher and traveller, Lindy Wildsmith is a great believer in the importance of seasonal ingredients and connecting with the land, people and producers she meets as she pursues her love of food in her native Herefordshire and far beyond.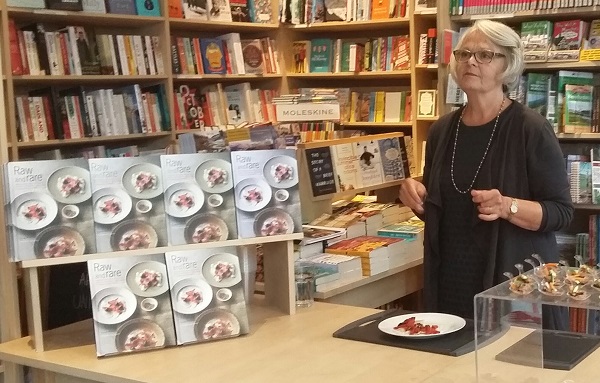 Her appreciation of nature, the changing seasons and the countryside and her interest in both tradition and innovation have inspired her interest in both curing, preserving and making drinks and given rise to many cookery books. As author of Cured, she was shortlisted for the André Simon award and the Guild of Food Writers best food book in 2011. Artisan Drinks, 2014, celebrates the pleasure to be had from making your own and has subsequently been translated into many languages.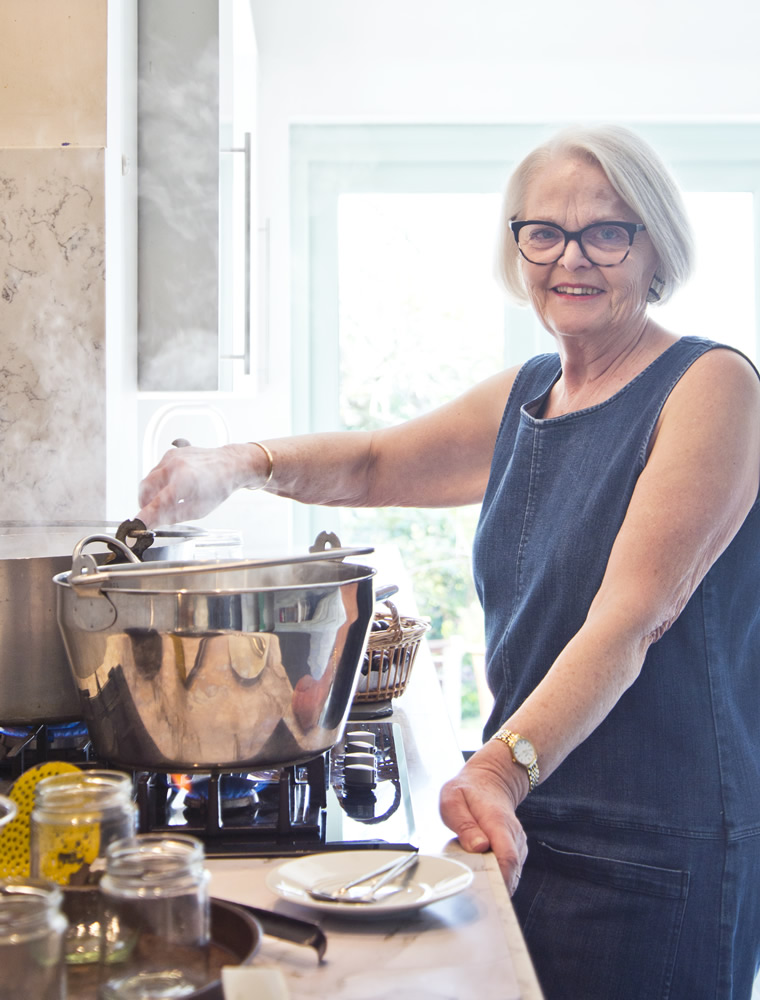 Fluent in Italian, having spent many years working and living in Rome, Lindy also specializes in Italian regional food. She has written books and features on Italian food and most recently wrote the very popular Cicchetti with Valentina Harris (Venetian and other Italian food to share) which was chosen as a Telegraph cookery book of the week.
She has also worked on translations of Italian cookery books.
Her research for her new book, Raw and Rare (Jacqui Small publishing 2017) on raw and seared fish, meat, salads, fruit and pickles has altered Lindy's focus from the British countryside to coastal waters and urban eateries; from the traditions of artisans to the creativity of international innovative chefs here in the UK, South America, Japan, Italy and elsewhere.
Teaching, figures high, when time allows. For many years, she ran the Chef's Room fish and cookery school in conjunction with Chef, Franco Taruschio OBE (founder of the famed Walnut Tree Inn) The School was named Best in Wales in the British Cookery School Awards on a number of occasions. Lindy now organizes pop up corporate, bespoke and private cooking events. She has recently been invited to Le Marche to investigate the possibility of setting up a cookery school in Loro Piceno, sadly the repeated earthquakes in the area in 2016 and the slow response to rebuild has put this on hold.
Lindy teaches preserving, fermentation and curing at The Artisan School of Food between Sheffield and Nottingham www.schoolofartisanfood.org and Italian regional cooking at Denman in the WI cookery school near Oxford.
Tel: 01989562353
LINDY WILDSMITH IN A NUT SHELL
RECENT BOOKS
The Handbook of Preserves January 2023 The Crowood Press £20.00 [ FIND OUT MORE ]
Raw and Rare, June 2017 Jacqui Small Publishing.
Artisan Drinks 2014 Jacqui Small Publishing.
Cicchetti and Italian plates to share with Valentina Harris 2013 Quarto.
Cured, salted, dried, smoked, potted, pickled and raw 2011 Jacqui Small Publishing:
Eating Outdoors 2009 Rylands Peters and Small
MAGAZINES
Recipe Features, Italy, travel/food, recipes
WI Life
House and Garden
Traveller Magazine
TRANSLATION
Lindy speaks fluent Italian and has an in-depth knowledge of Italy and its food. She translated Love Italian Food by Maddelena Caruso
TEACHING
SCHOOL OF ARTISAN FOOD (Welbeck Estate, Notts) Short Courses [ FIND OUT MORE ]
Preserving and Curing
Consulting and bespoke classes from home kitchen and pop-up venues
Curing, preserving and fermentation; Italian regional; French Farmhouse; Game, home cooking and entertaining.
BUSINESS



Her cookery school The Chef's Room was awarded best in Wales on numerous occasions.
Teaching both home cooking to enthusiastic amateurs, chef training and encouraging young people in schools and in the community were all on the agenda.
She organizes pop-up cookery classes, corporate cooking events and acts as a cookery school consultant
SPEAKING
She is a professional speaker and in 2012 presented seminars for the "Discover the Origin" scheme to the catering, delicatessen and restaurant trades on Prosciutto di Parma and Parmigiano Reggiano.
She has appeared in many cookery theatres in London and across the country at all the major shows.
JUDGE
Lindy has been invited to act as a judge for such prestigious awards as Gloucestershire Foodie Awards, The Delicious Produce Awards, Taste of Wales, Quality Food and Drinks and Bella Vista Awards.
WORKING IN THE COMMINITY
For three years, Lindy has been running cooking socials for young adults with learning difficulties in conjunction with Building Bridges of Monmouth.
ON LINE AND SOCIAL MEDIA
You can follow her on Instagram @lindywildsmith and Facebook
Contact lindy@lindywildsmith.co.uk
Tel: 07940754757