News, Events and Courses
October 2020
It has been an unusual year for us all!
It started as normal for me with Marmalade-making and other cookery classes, but my last hands-on cookery session was on March 6th for the Welbeck WI, when sixty plus members made marmalade. I always enjoy what can only be called the "preserving marathons" I do at Welbeck. They are fun evenings, as there is so much enthusiasm and good humour in the room.
Big tables are set up with portable induction hobs and all the necessary equipment. Members spread themselves out. All hands-on deck: chopping, juicing, stirring, setting, and potting until everyone has a jar of marmalade ready to take home.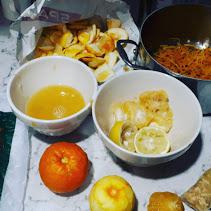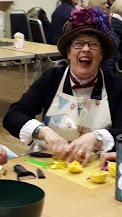 2019 was uneventful book-wise but my mind has been brimming over with ideas which hopefully I will start committing to paper this year. I did however write and illustrate a children's book called 'Bunny Island', inspired by a family visit to Lake Garda and our small Grandson's favourite soft toy. But this is for his eyes only.
This was just at the outset of the virus. The country was still functioning, but we were all washing hands to two renditions of Happy Birthday and hearing warnings about sneezing and coughing and not touching our faces.
The then chair, Anuska Parente, warned members that this may well have been their last meeting for some time. I, being the eternal optimist, found this very surprising... it turned out of course that she was dead right.
I had the worst train journey both there and back. Travelling North from Cheltenham to Worksop; there had been a fatality on the line and a journey that normally involves one change at Sheffield ended in four changes and to add insult to injury my journey home involved five. Despite being sneezed over and the constant change from one crowded train to another, I came away unscathed.
This was my last hands on course to date. Like everyone else, I cooked myself through lockdown, I made pates and terrines until I filled the freezer. Such good lunch time treats (since devoured). I distanced myself from the bread-making and cake baking that was gripping the country.
I also did lots of walking and collected specimen wild-flowers to paint, to while-away the hours that would normally be occupied by friends and family. The glorious weather and the bourgeoning spring helped sweeten confinement.
Zoom started to come into all our lives, we celebrated Easter around the table with the family. Each one of our households in seclusion, cooking the same roast lamb and all the trimmings, clinking glasses from afar which gave us a warm feeling of closeness at the time. Virtual quizzes, birthday and cocktail parties followed, even a surprisingly comforting wake, uniting, Scotland, Denmark, Cornwall, the New Forest, Herefordshire, and Oxfordshire.
Denman and the WI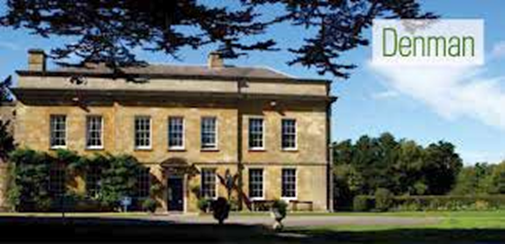 When the news struck that Denman and the WI cookery school were amongst the economic fatalities of the pandemic, I, along with all the other tutors shook our heads in dismay. How could this be? Sadly, Denman closed but long live Denman! Denman at home was born. I was not among the first to jump on the band wagon but as I warmed to the wonders of Zoom, I could see its potential for teaching. And here I am now, halfway through my first season of on-line cooking.
The sessions cost £5 and recipes are forwarded in advance, you watch, while I cook and then we have question and answers at in the end.
I am very happy to arrange one-off cooking sessions on line for your WI meetings if you have the technology in place.
The School of Artisan Food

I am glad to say that The School of Artisan Food has opened its doors again to students, and are featuring a wide range of bread making and butchery courses through the autumn. https://www.schoolofartisanfood.org/categories/all-courses My own fermenting, pickling, and preserving courses start again in January and are available to book now for the perfect Christmas gift. https://www.schoolofartisanfood.org/categories/all-courses?course_subject%5B%5D=5
It never ceases to amaze me, what a broad spectrum of interesting people beat their way to the gates of the Welbeck Estate, and to the School of Artisan Food and how far they travel, to learn the crafts of preserving and fermenting pickles. It is encouraging, in a world where we have instant access to everything, that we are dedicating much of our free time to artisan pursuits. It is also worth saying at this point that what a terrific bunch of people work at the school and what an absolute pleasure it is to teach there.
Local and bespoke

My award winning cookery school closed a few years back, when the property changed hands but Franco and I found an idyllic venue with excellent facilities for corporate events for up to 20 people, near Raglan in Monmouthshire, which will hopefully be available again sometime next year for private lunch party cooking days and pop-ups,, once restrictions are lifted. Please let us know your needs and we will look forward to accommodating you.
I am truly fortunate in the places I work and with the people I meet and hope to work with you this year.
Very best wishes
Lindy