News, Events and Courses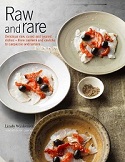 The biggest news this year is of course my new book Raw and Rare with photographer Kevin Summers. We worked together with book designer Maggie Town previously on Artisan Drinks and although the days are long and full-on they are rewarding and full of laughs. Well sometimes if we didnít laugh we would probably cry! Kevinís studio where every recipe is prepared and photographed, is in Shoreditch and my walk from the bus, morning and evening, is along quirky Redchurch Street. I love it, its shops and its hipster habituťs.
Franco is very keen to start classes again and he has found a venue at Bridges in Monmouth. We are doing 2 classes to test the water. Autumn in Italy: October 21st and Christmas in Italy: December 2nd If you are interested please contact Dorothy. dorothy.laidler@bridgescentre.org.ukor phone 01600 715638. Book early to avoid disappointment. All profits from the Chefís Room @Bridges will go to the Bridges Community Centre Monmouth.

I seem to have been back and forward to The School of Artisan Food a great deal of late for chef training, corporate events and regular classes, teaching preserving and fermentation. The school also provided the cooking theatre for RHS Chatsworth in June. I am very fortunate in the places I work and the people I meet, as I am always made to feel very welcome.
www.schoolofartisanfood.org/
I think I mentioned that we found a good venue for corporate events near Raglan which we will be using this autumn for private lunch party cooking days and pop-ups, so please let us know your needs and we will hope to accommodate you.

I still teach at the WI cookery school on a variety of courses around Italian regional food and this year we, Sue McKenna and I have introduced a summer school of food and language with a loose theme around The Grand Tour. Students will cook and learn Italian, see an Italian movie, do some Italian wine tasting and play Italian Tombola! Visit the Ashmolean Museum and the Palladian villa West Wycombe Park. Unsurprisingly it sold out very quickly and we now booking for July 2018
The project to create a cookery school at Loro Piceno in Le Marche has been put on the back burner. The concept was to create a focus to the town and to the townís people. Itís a great place but sadly two of the buildings we were going to use have been pronounced unsafe and we have to go back to the drawing board. This said Le Marche is open for visitors and eager to welcome you. I will keep you updated with news of the cookery school as it unfolds. Very best wishes Lindy