News, Events and Courses

January 2019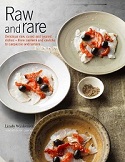 2019 was uneventful book-wise but my mind has been brimming over with ideas which hopefully I will start committing to paper this year. I did however write and illustrate a childrenís book called ĎBunny Islandí, inspired by a family visit to Lake Garda and our small Grandsonís favourite soft toy. But this is for his eyes only.

I continue to teach at The School of Artisan Food. It never ceases to amaze me, what a broad spectrum of interesting people beat their way to the gates of the Welbeck Estate, and how far they travel, to learn the crafts of preserving and fermenting pickles. Itís encouraging, in a world where we have instant access to everything, that we are dedicating much of our free time to artisan pursuits.
I am hoping to do a few evening events at the school this year, two hour talks on the magic of fermented pickles and drinks. Iím also poised to hop on my most recent hobbyhorse, the use of unnecessary plastic and other waste in the kitchen and the home. Can we turn the clocks back 50 years and do things the way our mothers and grandmothers used to do them?
The School of Artisan Food provided the cookery demonstrations again last year at RHS Chatsworth, sadly I was away. However, I hope to join them again this year in June www.schoolofartisanfood.org/

I continue to teach at the WI cookery school on a variety of courses on Italian regional food, preserving, artisan drinks and curing. Sue McKenna and I have run Italian food and language courses for beginners for a number of years, and for the first time this year we are introducing a level 2, improvers course. https://www.denman.org.uk/courses/cookery-school/
Local and bespoke
Franco and I are still doing some local Lunch party cooking days at www.bridgescentre.co.uk and Franco is starting a supper club. Contact silvia.roberts@brigescentre.org.uk
I think I have already mentioned that Franco and I found an idyllic venue with excellent facilities for corporate events for up to 20 people, near Raglan in Monmouthshire, which we will be using this year again for private lunch party cooking days and pop-ups, so please let us know your needs and we will look forward to accommodating you.
I am very fortunate in the places I work and with the people I meet and hope to work with you this year.
Very best wishes
Lindy