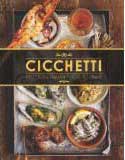 Out April 2013 – Race Point Publishing. Co-written with established food writer and TV cook Valentina Harris. Eat one or twenty one; that's up to you!
Anyone that has strolled around Venice in search of something to eat will surely have come across Cicchetti. They are served in bars, 'bàcari' and other eateries and are the Venetian equivalent of tapas; irresistible little snacks of every imaginable configuration. Eat them on sticks at the bar with an ombra (an aperitif), or at a table and on a plate for lunch.
This book, as its title might imply, is not only about Cicchetti but about appetisers from all over Italy. Lindy has concentrated on the Cicchetto proper which is uniquely Venetian, whereas Valentina has extended the culinary journey around the regions to share with you some of the finest stuzzichini produced traditionally by friggitori, bars and rosticcerie from Milan to Palermo. She has also written about the regions conjuring up both their culinary and physical characteristics. Join them on this elegant culinary journey.